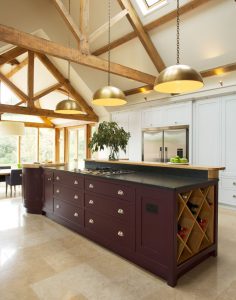 Deciding on paint colours for your home can seem enormously daunting. Choosing a suitable range of paints for a new kitchen, renovation or extension is even harder to envisage when you haven't lived in a room and seen how the light falls.
Help is at hand, though. The Wiltshire-based furniture maker, Guild Anderson, advise on appliances, worksurfaces, flooring and lighting as part of their comprehensive design service – and this naturally includes paint colours.
Guild Anderson was founded nearly fifteen years ago and their bespoke cabinetry commissions for fitted and free-standing furniture range from small to large scale renovations. This will often involve many rooms in one house and the majority of projects include a bespoke kitchen. Whereas several years ago, demand was strong for a wood cabinetry finish, interestingly 90% of commissions today are for a hand-painted kitchen. This makes paint colour a key element in the project planning.
Head of Design, Nick Anderson says although they don't pretend to be interior designers nor charge for colour advice, it would be a natural progression for the company to launch a full paint consultancy service in the future. He explains, 'We talk about colour a great deal with clients and it is part of the design service we provide. The right paint colour is important for the overall look to seem right. We see it as integral to the project, not a separate decision. Guild Anderson's bespoke cabinetry is beautifully made, so clients want their paint choices to sit well in their new room'.
Typically, a renovation project may last anywhere from three to eighteen months, allowing designers to build a good rapport with their customers and a clear understanding of what is needed for the cabinetry finish. This timeline puts Guild Anderson in a fairly unique position to support clients. Colour is perhaps more important than ever and although with the internet there is greater access to colour options, it can make choice even more confusing.
'Clients are not always very confident when tackling a whole house,' says Guild Anderson's co-founder, Head of Marketing and Colour Consultant, Hannah Anderson. 'They feel they might regret a decision and having spent a great deal of money on a renovation, they want to finish it properly. Customers identify with the Guild Anderson look and will often ask us to advise them.'
Hannah points out kitchens are particularly complicated spaces, so colours need to be calm and subtle, but also confident. Guild Anderson describe their style as a balance of traditional colours with interesting, contemporary colour accents. The company has favourite paint combinations, preferring to use a strong feature colour for the kitchen island, such as Farrow & Ball's Inchyra Blue, Pelt or Studio Green, a lighter tone for the surrounding cabinetry to set off the island, and walls painted in the same or darker shade. Often the floor or worktop is a good starting point for a scheme, as natural stone has a far more limited colour palette than paint ranges.
A deep cream is probably the Guild Anderson design team's least favourite colour for a kitchen. Although warm, a cream can look grubby and dated while the greener tones in whites, like F&B's Hardwick White, or soft colours with a subtle natural hue, such as F&B's popular Mouse's Back and Mole's Breath, are more contemporary and much easier to live with.
Another dilemma for many people is whether or not it is worth buying the more expensive brands. Paints can be colour matched but Hannah feels the finished result just doesn't resonate with the same quality or colour coverage, due to the higher quality and richer pigments used in the manufacture of the premium paint brands.
This is worth bearing in mind when choosing several paints at the same time. 'Keeping with a single paint supplier makes things easier to choose complementary colours,' she comments. 'Paint needs to tally through every room – they need to be consistent and make sense otherwise the colours will look disjointed. The proof of a good scheme is that it blends with the rest of the house, at worst it can look out of place. A room needs to have visual interest and be cohesive, but this isn't always straight forward to achieve – particularly in large living-kitchens where there are different areas for cooking, eating and sitting.'
Hannah's background is highly creative. Following Art A'level, she studied photography for three years and describes herself as simply very colour oriented. Working in the magazine industry, including Cosmo and Marie Claire, gave structure to her approach although being the mid-1990's, Hannah wryly observes, fashion and decoration schemes were far from the tasteful, muted style today.
She explains, 'Colours must relate to each other as much as to bring out other elements in the room – the fleck of a granite worksurface perhaps, or a stunning fabric. As 90% of our kitchens are handpainted, Guild Anderson help clients navigate the best way to use colour on cabinetry. If you want to introduce more colour to a room but are worried about using a stronger shade, what can work really well is to choose bold tones for drawer or cabinet interiors, or pick out a key colour in lampshades and fabrics.'
Hannah has always enjoyed looking at paint colours and has a great sense of balance and proportion and light and dark. She was brought up on a farm where the dark red carpets would hide the dark red mud brought in on her father's wellies. Her mother was very colour conscious, making her own curtains and re-covering upholstery. Her love for deeper, richer colours though, was influenced by travelling in Asia with husband Nick, before returning to found Guild Anderson in 2003.
She says her best advise for choosing paint colours and considering a decorating scheme, is to be really observant of light: which way does the room face, notice how the light changes through the day and how it alters the tone of a colour. It is interesting to see how the tone of a paint can look quite different from room to room. She says the secret to choosing the perfect shade is partly about investigating what looks right where.
However elusive choosing the ideal colour may seem to most of us, though, Hannah's tips on choosing paint are admirably practical and easy to follow. 'Colour plays such an important role in our lives, although we are often too afraid to try something new. We don't all have to be style innovators but the main thing is to have fun with colour,' Hannah concludes. 'The right choice is very individual – and the wonderful thing about paint is if you don't like it, there is always the option to repaint.'
Hannah outlines Guild Anderson's top tips for choosing paint colours:
Look at magazines particularly House and Gardens and Homes & Gardens – both are fantastic for getting colour and style ideas. You can end up with a scheme that looks quite expensive but you don't need to spend a fortune to get a similar look, by using a consistent colour theme and fabric warehouses supplying discontinued stock."
Start small: choose a short corridor or a room you don't use all the time, perhaps a winter space, to trial a new idea. It doesn't take too long to repaint if you don't like it.
Consider ceiling and woodwork colour in context with the rest of the room. Be careful of white, it is trickier than it looks! Don't necessarily settle on a white ceiling and gloss woodwork – a more thoughtful paint such as Farrow & Ball's Slipper Satin or Shaded White for woodwork and ceiling is softer and far less harsh than a Dulux brilliant white.
Don't go mad on tester pots – try to narrow down to three and paint large squares not little strips, otherwise you just can't see what the result will be. En masse, it is a different, stronger effect.
Try to paint opposite walls of the same room if you can, the light is very different from one side of a room to another – factoring in the light and shade in differing corners of a room is really important.
If your scheme isn't quite so grand as to need an interior designer, be sure to get sound advice from a friend with a good eye for interiors – or of course, from Guild Anderson….
The company sees the three stages involved in creating the perfect kitchen design for a client as very much interconnected – the cabinetry style, the layout and flow of a room, and finally but not least, the finishes and colour scheme.
Guild Anderson may have started out life as kitchen designers but they are increasingly being called on for their design style in the wider sense, and their perspective on colour is a good example of this. Paint colours can be subtle, playful, dramatic or eclectic, but especially for the kitchen, colour can be the bridge that holds a room together.
Guild Anderson Furniture: T 01747 820 449 / www.guildanderson.co.uk / design@guildanderson.co.uk