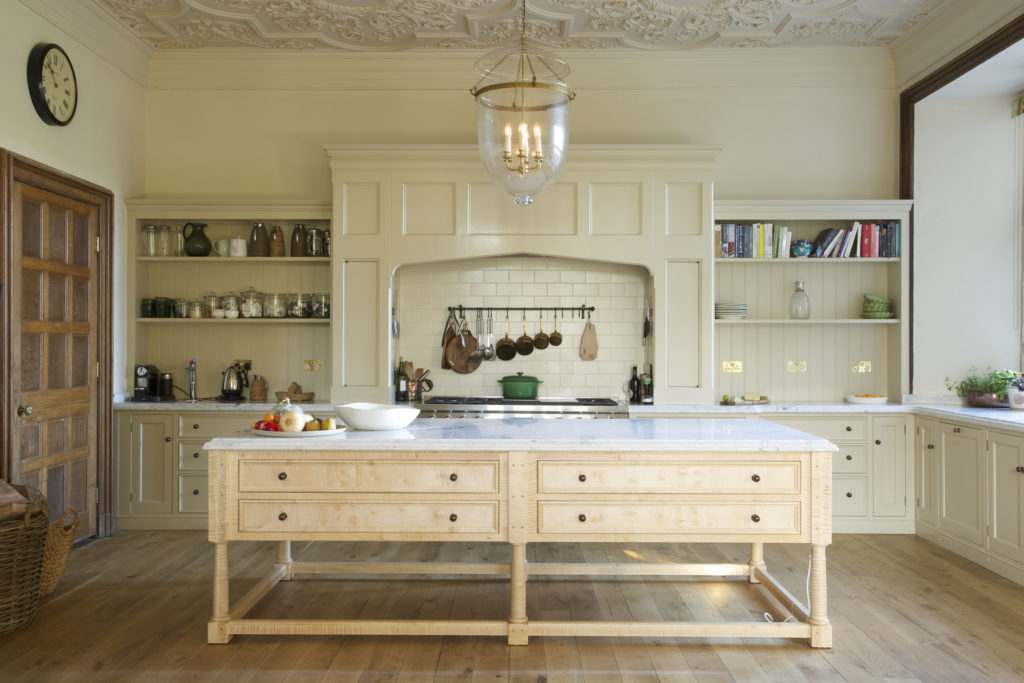 An integral part of restorations for a Grade I listed Elizabethan manor house, this case study illustrates Guild Anderson Furniture's most comprehensive cabinetry project to date. The commission for this magnificent Manor House – built in 1580's and last comprehensively brought up to date in the 1800's – encompassed three kitchens, three bathrooms, a pantry, bootroom and swimming pool pavilion, demanding a variety of traditional furniture making skills.
Recommended during the renovation process by Wiltshire heritage builders, R Moulding & Co, Guild Anderson's experienced team of craftsmen meant the company was well placed to undertake the wide scope of expertise needed for the refurbishment. The challenge was to design and make fitted furniture that was firstly, sympathetic to the heritage of the building without seeming out of place; and secondly, as a way to bring a visual consistency to the interior of this historic house.
The Main Kitchen:
The focal point of the kitchen is undoubtedly the table island. Impressive yet surprisingly light and elegant for such a large piece, the up-scaled bespoke table island has turned legs, deep drawers on either side, a generous stone worksurface and is built in a style influenced by the architect, Edwin Lutyens. A leader in the Arts & Crafts movement and a prolific designer, Lutyens put much thought into his design work, drawing to great detail such as light fittings and furniture for the houses he was designing for.
Here, Head of Design, Nick Anderson has used several references from Lutyens' work, basing his design in the style of the table in the Butler's Pantry at Castle Drogo. Using a similar spacing of four drawers and a dowel peg feature, the cabinetry detail has been intentionally paired down for a more contemporary appearance and is well worth examining closer.
With oak already well-represented in the house, the client wanted an alternative but equally native timber for the table island's construction. By selecting a particularly beautiful piece of rippled English sycamore that retains a lightness even on the gloomiest day, Guild Anderson's cabinet makers have succeeded in creating a remarkable centre piece for the room.
Topped with a single slab of honed Carrara Statuarietto, the island's worksurface is finished with a stunning decorative edging profile. Where a square edge would have been understated in such a setting, this unusual two-part decorative ogee profile over a bullnose edge adds a greater level of detail. Perfectly proportioned to suit the room and already as if in the same place for a hundred years, the central table island stands as much an independent piece of furniture as a fine example of English cabinetry.
The surrounding cabinetry is also all hand-made by Guild Anderson. With exceptionally high ceilings, the upper height of the run sits naturally at eye level to avoid being overbearing in such a large room. An Arts & Crafts cooker surround references the style of the doors in the kitchen and the hood is disguised as furniture rather than so clearly a chimney. To comply with building preservation restrictions, the hood also hides a sophisticated extractor system deftly taking air downwards to outside at a low level, through pillars on either side of the cooker.
The main kitchen is well served with kitchen appliances, including a Wolf range and two hidden dishwashers and a warming drawer. Despite its Jacobean origins, the Manor has been brought up to date with the inclusion of a Zipp Boiling water tap – a highly useful appliance with an integral 'font'. Unlike other boiling water taps, the Zipp doesn't need to be positioned near the kitchen sink but can be discretely installed anywhere in the room to make cups of tea and coffee in an instant. Flanked by a walk-in fridge and a pantry for chilled foods, the kitchen needed nothing more than a straight forward under-the-counter fridge.
Aside from additional restrictions from Listed building regulations, the quality of light in the main kitchen was another consideration for the design team. Being both north facing and opening into a courtyard, it required a layout that was open and spacious.
Despite its grand scale, finding a balanced solution is interestingly often more challenging in a larger space than a small one. In addition, unique features such as the original plaster corniced high ceiling in the main kitchen, several doorways and separate areas for sitting and eating, presented their own individual issues. However, the new kitchen is beautifully light, inviting and well-balanced, but still resonates pleasingly from the past. Guild Anderson's careful deliberations over style and the grand proportions have resulted in a design that entirely makes sense for the flow of this wonderful room.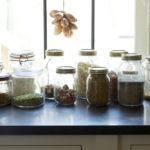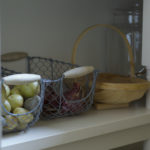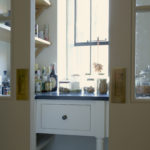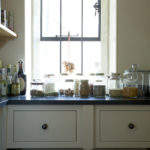 The Larder Pantry:
Situated in a passageway running between the back door and kitchen, it was important that the Larder Pantry was easy to keep tidy and look as pretty as be practical. Guild Anderson's design for the Larder is modelled on a traditional butler's pantry and furnished with an attractive handmade sideboard with turned legs. It has been beautifully fitted out with slate tops to keep food cool and bespoke shelving for jams and spice jars above.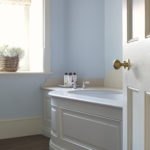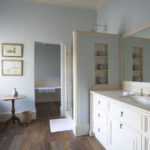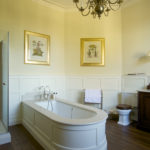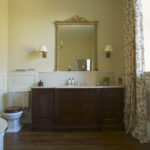 Bathrooms and Bespoke Panelling:
The renovation of the Manor House has allowed the different wings of the house to be neatly defined into a more logical layout of separate living spaces, accommodating a flexible number of bedrooms, all with en-suite bathrooms. The additional wings can be opened up as needed, depending on the number of guests staying.
Guild Anderson's design brief for the bathrooms was to make fitted furniture that looked as equally good as it was functional. The bespoke drawing-room cabinetry beautifully designed for each bathroom gives a finesse and elegance to secondary rooms that so often fall low on the list of building priorities. The design for each of the charming and generous-sized bathrooms is unique in layout and fitted to a very high specification. In one bathroom, for example, the bespoke cabinetry has been made to resemble an antique mahogany chest of drawers, lightly distressed and French polished. In another, the hand made curved panelling surrounding the bath and splashback detail works well by paralleling the curve of the bath below.
The wall panelling was a fairly important element for much of the design work for this house. Similar to the Bootroom, the design for the bespoke panelling in the bathrooms picks up from styles represented elsewhere in the Manor. It especially works well in an ancient building such as this, where uneven floors, ceilings and walls need to be re-balanced and bespoke panelling can re-introduce symmetry to a room.
Designing panelling to seem as though it has always been there and to match with the original cabinetry of the house, is a technical feat not to be underestimated. Post-renovation it is hard to distinguish where Guild Anderson's work in the bathroom meets the traditional panelling, made over the years and at different heights and widths.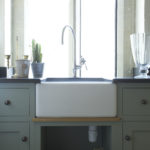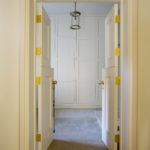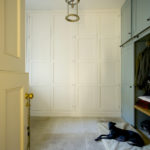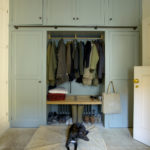 Boot room:
It takes some seriously impressive pipes and valves to heat a house of this size and age. The majestic floor-to-ceiling bespoke panelling in the bootroom, designed and made by Guild Anderson, cleverly covers up the giant heating system needed to warm the stone floors of the house. Several push-open tall doors provide easy access to the pipes of the efficient new system which also supply hot water to the Manor's many bathrooms.
Project Summary
This was a comprehensive refurbishment completed to an exceptionally comfortable standard of finish. The result is a house that has been restored for the client's family and friends to enjoy for many years. The project had a generous budget but was not without its complications and challenges, due to the historical considerations. It is an excellent example of the Guild Anderson workshop's professionalism and ability to work with different teams – including the interior designers, Annabel Elliot, and conservation architects, Donald Insall – across a complex project that was comparatively lengthy and multifaceted.
It also shows what Guild Anderson's unique attributes can bring to a project. Their cabinetry expertise was used to consolidate and simplify several centuries of building styles. The quality of work carried out by Nick, his designers and workshop team speaks for itself and sits well with the heritage of the building.
The client trusted Guild Anderson to not only produce high quality, innovative cabinetry but advise well on appropriate styles and finishes and provide the very best of customer service expected at this level of the market.
Nick Anderson summarises, 'The Manor was an enormously rewarding project to undertake. We feel honoured to have been a part of its refurbishment, modernisation and investment as one of this country's heritage buildings. It was a pleasure to make and design furniture to such a standard of detail that will benefit this particular house for many years into the future'.