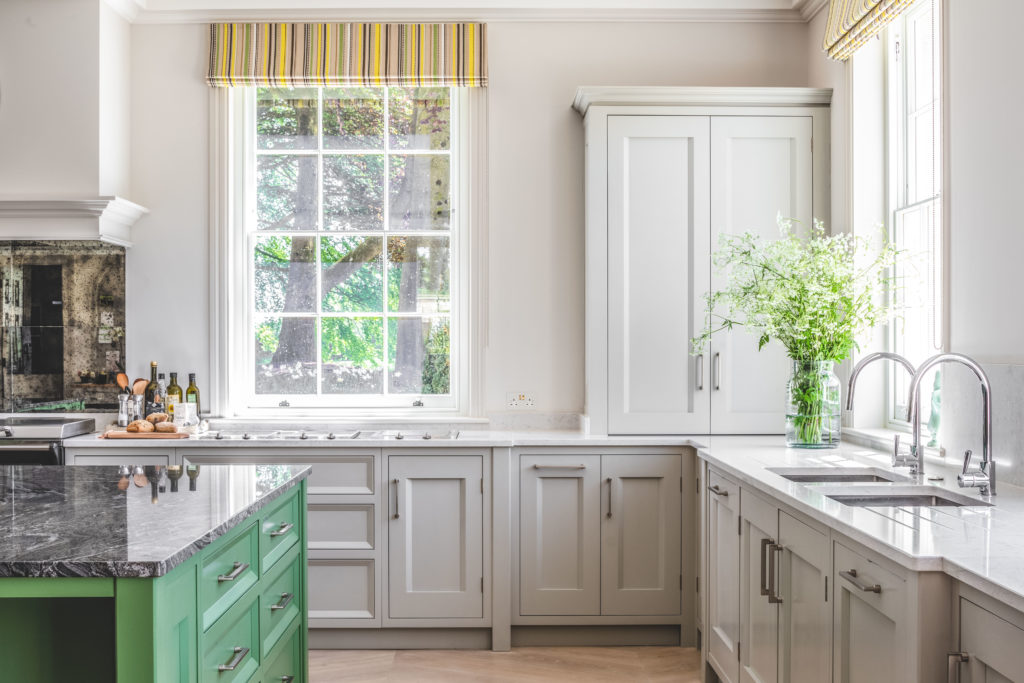 Which are the best paint colours for your new renovation? Choosing the perfect colour can be tricky. Guild Anderson Furniture are so often asked for their advice on what makes for a good paint colour scheme, they have recently launched a paint advisory service.
Hannah Anderson heads up the new Colour Consultancy service. The Colour Consultancy is free but reserved for clients only, as part of a cabinetry design project. Below, are a selection of successful paint combinations from some of our recent projects.
Hannah's first advice to clients sounds basic but is fundamental to Guild Anderson's approach to looking at a project as a whole, i.e. working with other professional services and with a client's own personal items to achieve the right solution. 'It really is important to consider all the different elements in a new room,' she says, 'the material, curtains, cushions, even the blue veining or brown fleck in a granite worktop or the grain of a wood. These details work by picking out a particular colour which then ties a whole scheme together.'
'At the heart of it,' Hannah continues, 'it is simply best to have colours that truly work together. I just love the bolder paints but colours that stand out are less easy to live with. You need to have a starting point and this is where we come in. Guild Anderson have a large portfolio of projects to draw on and use as a map to help identify what someone does and doesn't like. As a design studio, we have a particular look which has been a positive factor in clients choosing us to design and make cabinetry for them.'
Paint Colour Case Studies
Favourite selections are from the premium paint brands Farrow & Ball, Little Greene and Picture & Paper Library. Clients have clearly moved away from the classic country house days of cream on cream, the colours today being seen as too dull and flat. The world of paint colour is constantly evolving with different finishes, colours and technical changes to keep the market thankfully fresh and exciting.
Cutting to the nitty gritty, what colours does Hannah feel work together? Here we have included some of the creative colour combinations paint colours chosen by our clients:
Which are the best paint colour combinations?
1. Strong Focal point: a hand-painted kitchen island 
Larger rooms can cope with a braver, bolder colour choice. In this example (pictured), the island is painted in the fabulous Apple Smiles II, a strong green from Paint & Paper Library which allows the island to feature and compliments the hand-painted cabinetry in a pale P&PL Slate V.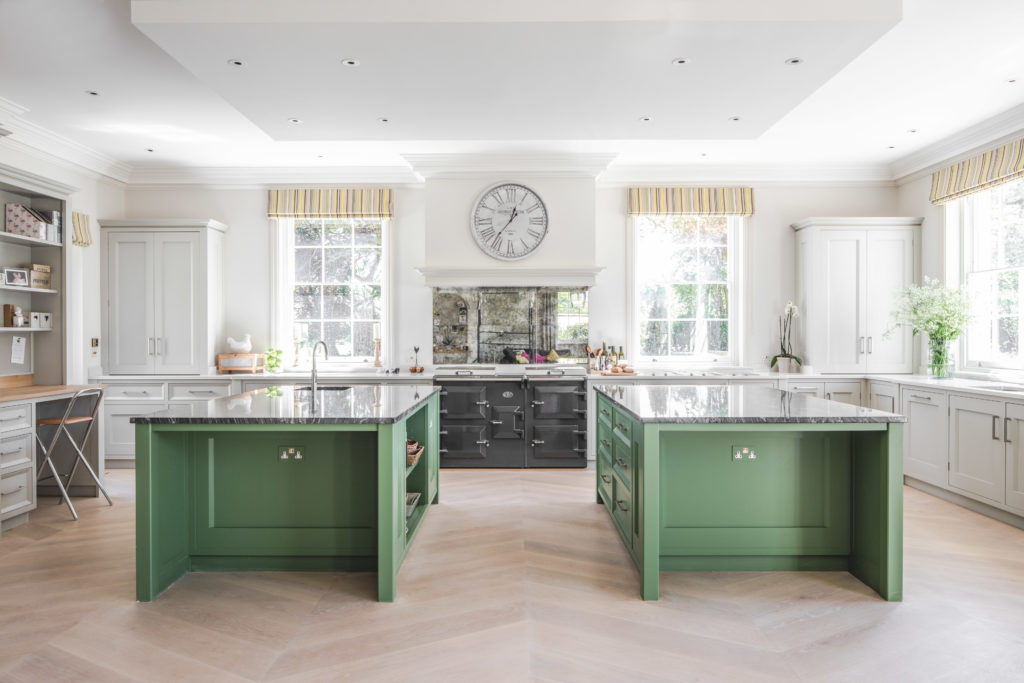 2. The Greys  
As a smaller room, this kitchen (below) has been one of our most successful projects on Pinterest. It is in some ways the ideal kitchen: a great size to cook in with everything near to hand, and an eating area in a new garden room extension. The colours are calm, comfortable and fairly restrained, with cabinetry in Purbeck Stone and an island in F&B Mole's Breath.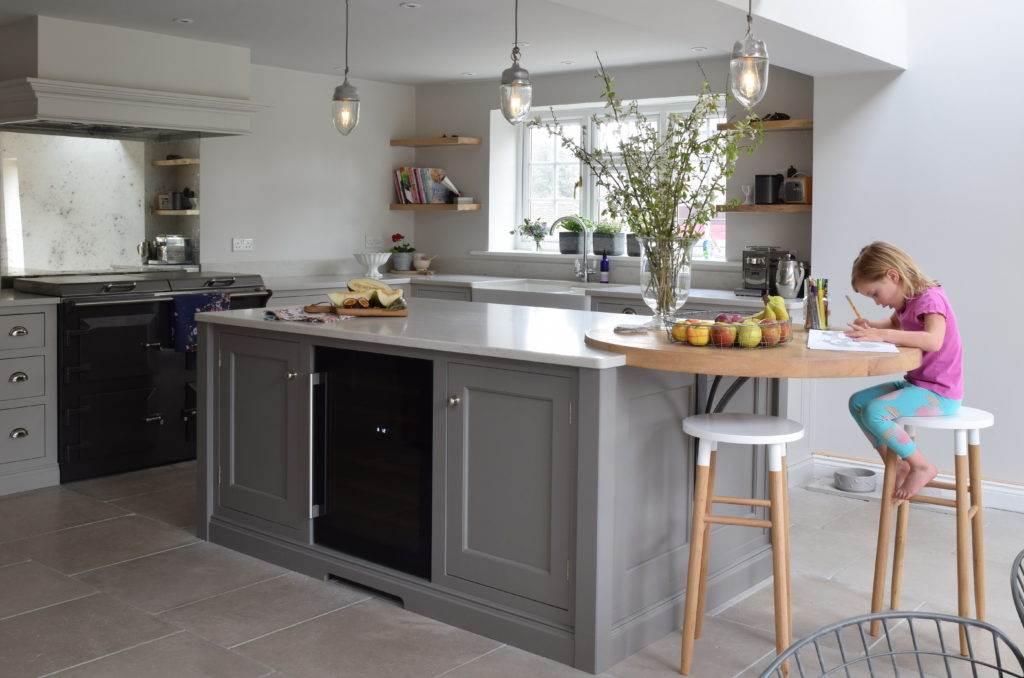 3. Non-Grey Greys 
Although Guild Anderson are seeing clients moving away from the pure, hard greys, the fact is that the palette of greys is so easy to live with. Changing so much in different lights and from one room to another, the greys remain an enormously popular choice due to their flexibility.
Recent demand has been stronger for softer grey colours such as Drop Cloth, Shaded White or Cromerty, all from F&B. Hannah describes these as 'tonal greys': these are not straight greys but can be used in the same way. Although a supporter of neutral shades, Hannah tries to dissuade clients from choosing colours with too definite or oppressive a grey such as F&B's Cornforth, a braver choice. Colours like F&B's Lime White, Vert de Terre or Ball Green, Hannah feels to be warmer and softer and far more positive shades of grey.
Little Greene's Slaked Lime is another green-grey that Hannah recommends, 'This is a great colour to live with, and you can easily add other colours with more depth as a contrast to its flexible colour.'
F&B's Hardwick White is another interesting grey with great depth due to the fine pigments used by Farrow & Ball: some see it as a grey, Hannah says, some see it as green or grey-green. 'It is a very open choice, a non-grey grey.' Hannah comments. 'Colour is so subjective and much depends on the light in a particular house, the fabrics, furnishings and context. Your best approach is always to consider a paint in context, not just on a chart'.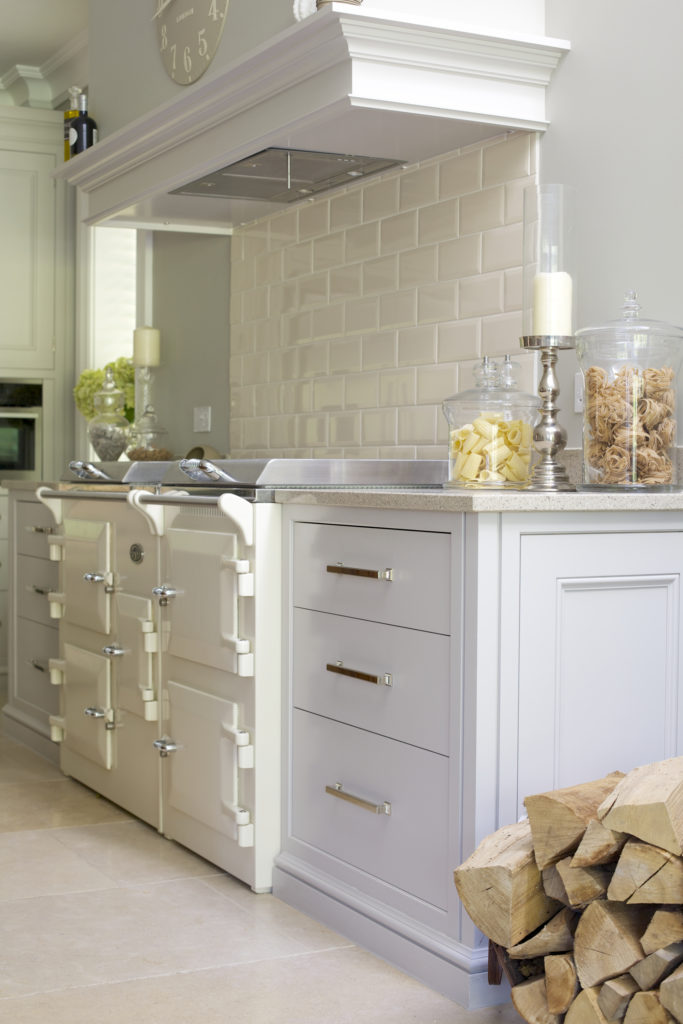 4. Softer schemes 
Asked to describe her ideal scheme, Hannah would always prefer muted colours. This combination (pictured) from Farrow & Ball is one of her favourite soft colour schemes and is perfect in the rural setting of this house. With woodwork in Slipper Satin, cabinetry in Cromarty, an island in Pigeon and walls in Lamproom Grey, this softer scheme is particularly easy to live with.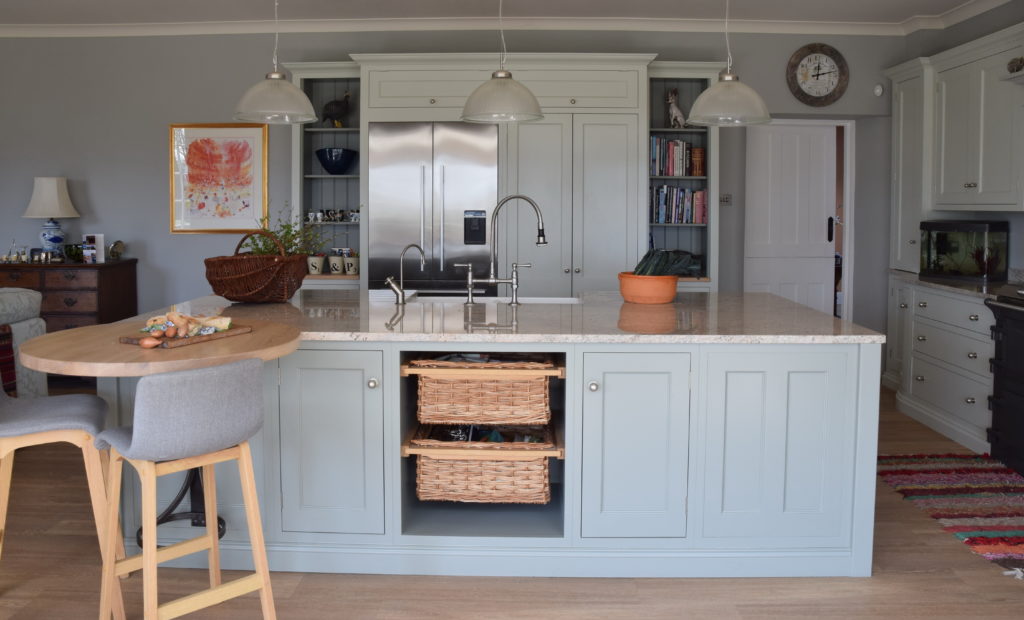 5. Bolder schemes
As an example of a bolder choice, Hannah might suggest a paint choice such as Little Greene's Blue Gum. This is a colour she particularly loves for its vibrancy and originality and one which shows up equally well in bright conditions as rooms with lesser natural light. It is a favourite colour that would suit many kitchens. She explains, "Blue Gum is not so off the wall, but is a definite colour rather than a grey or a neutral. It picks up well on linens or flowers and is just a delight in all lights. In this particular situation, the kitchen has especially high ceilings so although the run of cabinetry is fairly short, it works well without creating an overwhelming bank of colour en masse as you enter the room'.
6. Trick of the Light: the paint finish – shimmer or sheen
Another trick you can use, Hannah suggests, is to play with the light on the paint finish. 'Here,' she points to a magnificently dark painted kitchen island, 'F&B's Studio Green appears almost black but the sheen lifts it. This is far from a flat, matt dead black colour. A slight sheen in a dark paint is intriguing, you stand this way and that but it is still not entirely clear what that colour is. The appearance of a colour will alter depending on the sheen. We never use high gloss though! Just a light shimmer will do.'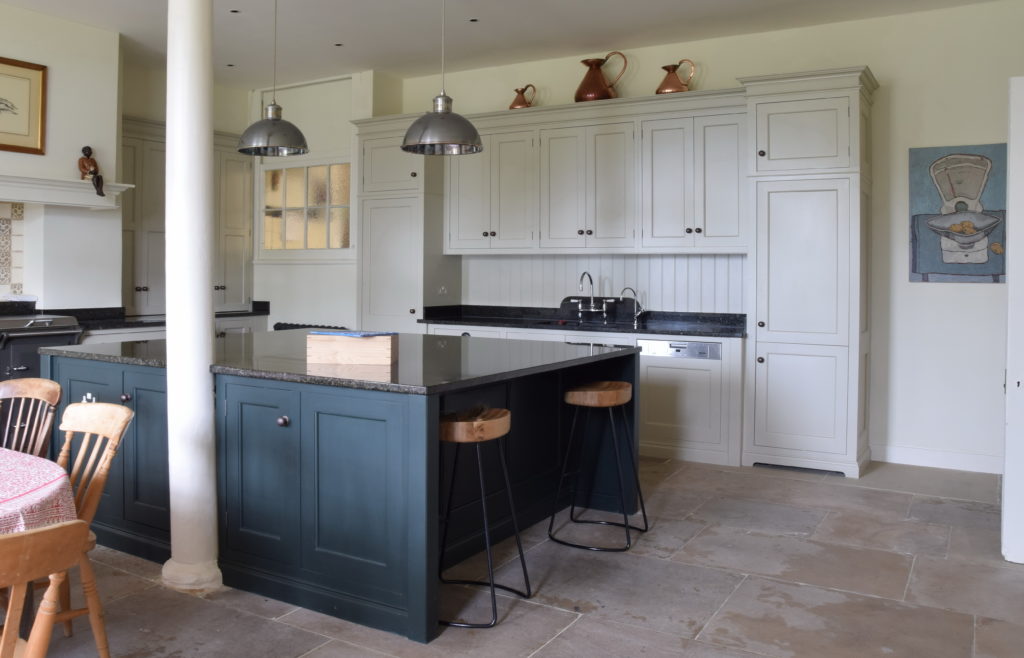 7. Hidden Colour
Choosing complementary colours is ultimately what all clients are looking to achieve from a bespoke approach: individuality and personality. For some, one way to express a sense of colour is to paint the interiors to their cabinets in a contrasting or stronger colour. In this example, the client has F&B Ball Green painted cabinetry, with drawer interiors painted in F&B Radiccio (pictured), and in another, kitchen drawers have been painted in a Little Greene pink, Leather 191. Hannah explains, 'If clients want to choose something conservative on the outside, using a striking colour for the interior allows them without risking too much to introduce a more little fun into the room.'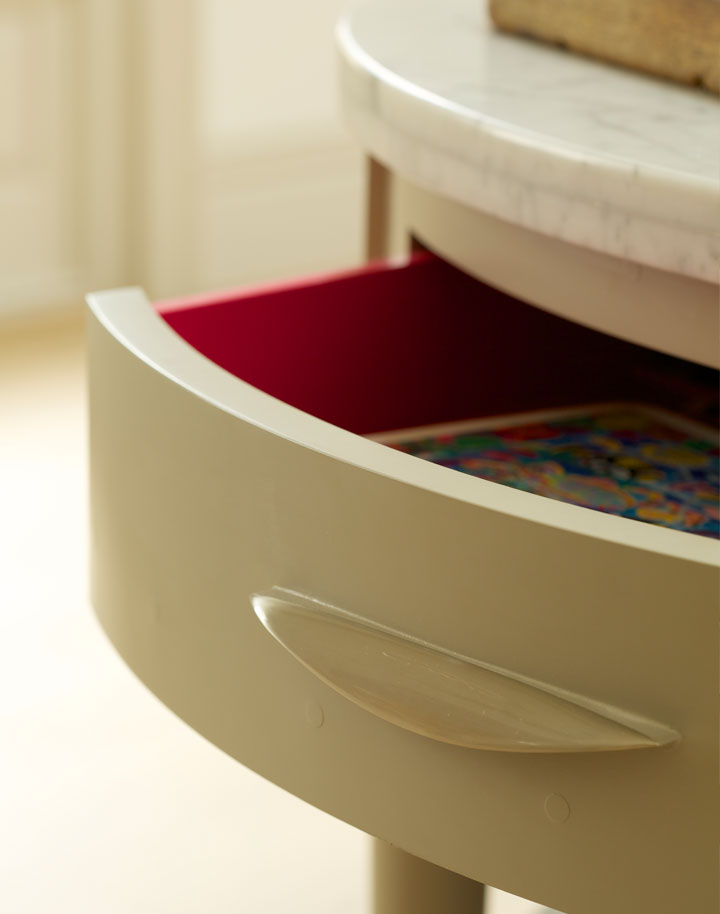 8. Shades of Colour
Hannah finds Little Greene's approach of defining shades in several different depths of colour particularly helpful in choosing schemes that fit together. Cleverly, the same colour is produced in four varying depths of tone: Pale, Mid, Deep and Dark. This way, customers can be confident the colours will work together in the same room.
Little Greene produce a display folder for their full range of paint colours which Hannah references for many projects. It is particularly useful for the more complex paint schemes of a large renovation. 'The folder is expensive but is an easy way to track colours. This way, you can try the colour sheets in different rooms and not get in a muddle. Not only is it very comprehensive but it is laid out in numerical order which makes helps to locate, check colours and put them back in the right place!' Little Greene have published a boiled-down version of colours that work together that Hannah recommends for smaller projects. The 'Little Book of Colour' is full of colour schemes and less overwhelming than the extended colour folder.
Paint Consultancy in a nutshell:
Summarising, Hannah describes Guild Anderson's Paint Consultancy service as being part exploration, part affirmation. 'Some clients need more of a steer on which are the best colours for them, others simply want a verification they are on the right track. Often, we will know what we want a room to look like but just can't work out how to get there. It is such a personal decision.' she says, 'I'm just here to help, just a guide. We all see colour differently so a particular colour is never 'right' or 'wrong' but it is important when you stand back that the colours are cohesive, seamless and work together for you'.
Hannah explains often a client will start out by saying how they are torn between not wanting to choose something too dull yet at heart would prefer a more exciting colour scheme. They are aware they have to live with the final decision for the next who knows how many years. 'Either way, even a conservative colour needs to reflect the person – you need to absolutely love it,' Hannah continues, 'A colour may need to sell the house for you in the future. Take your time. The paint colours need to be part of the whole picture, to resonate, fit in and never jar.'
'Although I personally love stronger colours,' Hannah concludes, 'in my mind, there are two important points to consider here. Firstly, taking into account the expense and frequency most of us are likely to repaint, the softer paint colours are often the best way forward. Secondly, Guild Anderson's philosophy on colour is that there really is a big difference between a colour scheme that 'looks nice' to one that is really stunning. Ideally, you'd like a balanced colour scheme that looks fabulous when you walk into your new room as well as that place being somewhere that feels just right, where you want to sit in or spend time with your children and friends. I feel we should all get much more out of a room that you're going to spend so much time in. Be inspired! A kitchen design should be about the materials, layout and colours – and of course, always a joy to cook, work and live in.'
Guild Anderson Furniture: T 01747 820 449 / design@guildanderson.co.uk