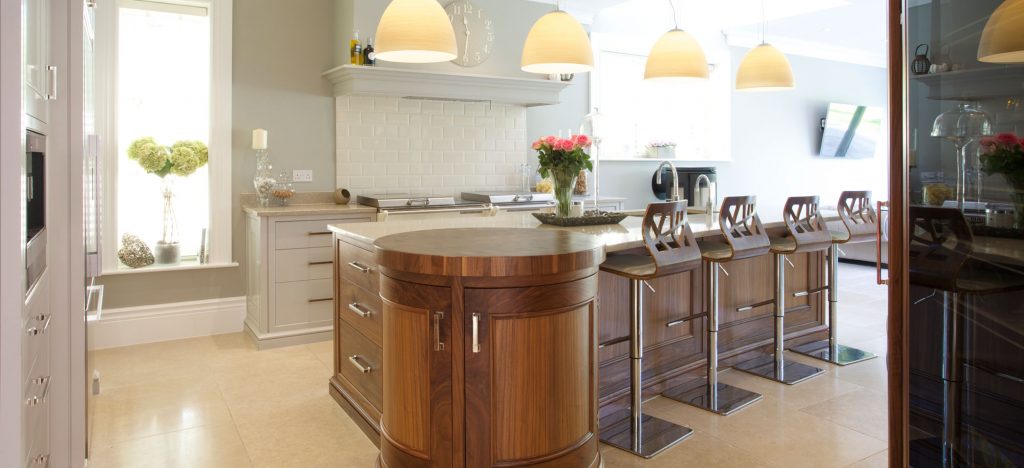 The island is the linchpin for many kitchens, a central feature around which family life revolves.
However, today's luxury is often not just good design but space – or the lack of it. The kitchen island is a key element in many Guild Anderson kitchen designs. It provides practical extra storage by housing a central sink or hiding appliances such as a dishwasher, fridge or wine cooler. Guild Anderson make all their furniture to order so no one island is ever the same. Proportioned to fit the room, a kitchen island can be finished with a worktop to suit the style of the room in wood, granite, slate, or polished concrete.
Guild Anderson are well known for their hand-made, elegant kitchens. Observing trends over the last ten years, Nick Anderson sees how customer's tastes subtly change over time, but the kitchen island remains a prerequisite.
'For most kitchens,' Nick Anderson comments, 'space can always be found for an island. For larger rooms, they are needed for both practical and aesthetic reasons. A fabulous, well-designed island creates the centerpiece to a room, a social point that everyone gravitates towards.' Often generously proportioned, the island might contain a food preparation area and hob on one side and a breakfast bar on the other. In this Hampshire kitchen (pictured), Nick designed a very beautiful and stylish marble topped table end for the island as an original solution to a serving table.
'When Guild Anderson design a kitchen,' Nick adds, 'we listen carefully to our clients' everyday lives – which door they come through with the grocery bags, where homework or the laundry is done. An island can alter the shape and flow of a room for the better. If the kitchen today is a multi-purpose room, the island is its central pivot, solid and hardwearing – and each one we make is unique.'
More unusually, Guild Anderson completed a kitchen project recently where two islands were integrated into the design. 'Occasionally in an older or converted building,' Nick explains, 'rooms can be really quite large, and our challenge is to create a combined living and eating layout that is both practical and homely. In one example, the new room had large windows and little wall space, so the best solution was for us to design a pair of islands thereby providing sufficient food preparation space and storage for cookware'.
So, be it for prepping, serving, clearing, somewhere to stack the ironing, for homework, hot chocolate before bedtime, a coffee and a chat with a friend, or Friday night cocktails with your other half, the island is more than a stable storage space but an anchor around which family life revolves. Simply put, a kitchen island completes a room.