The English Farmhouse has been described as the ideal home with enough rooms for a family, from a spacious kitchen and larder to a boot room for muddy wellies. This farmhouse in Wiltshire is a good example of a perfect country house, full of charm, with flower and vegetable gardens and outbuildings, and a convenient hour's drive from London.
The context for this kitchen design project was a fairly major remodeling of the main room, an extension to the farmhouse in need of an update. Guild Anderson worked in tandem with architects Affinity Architecture to create something wonderful out of what was originally a rather large and austere room. Structurally, the ceiling height was lowered to create an additional bedroom above. This still left tall ceilings for a substantial kitchen-dining room and with better proportions in the revised layout.
'For our new home, we wanted a bespoke kitchen that was easy to live in and also designed in a way to minimise the clutter that so easily builds up when the children are around,' says Jo, the owner, summarising the design brief for her new kitchen.
The Guild Anderson Design Approach: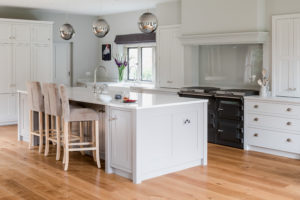 Jo enjoyed the collaborative approach of the kitchen design team at Guild Anderson and she explains how the project came about.
'We came across Guild Anderson Furniture via our Architects,' she says, 'Initially, we were just happy to support a local business and when they visited us on-site, we realised immediately, that's it, they're the ones to design our new kitchen for us!'
The family researched the kitchen design market fairly thoroughly and knew what they were looking for. 'What we liked from the outset about Guild Anderson's website was there were no generic pictures, unlike the other higher profile companies we considered. Also, we felt of the other kitchen companies we visited, either the style did not appeal or the British heritage was missing. What we appreciated about Guild Anderson was their pared back look – there is detail in the design but it is lovely and simple. When we price compared them, Guild Anderson's quote just felt right.'
'From the start,' Jo continues, 'we liked the sensible way that Guild Anderson approached things. Nick Anderson starts with the way you like to work – the preparation and cooking style – before he draws anything. The reason this is really useful is that when you get into any detail you feel you are on the right track and the quote is in context. This is what I call intelligent design work.'
Central to the design solution: a juicer, an under the counter fridge and a Bowman storage cupboard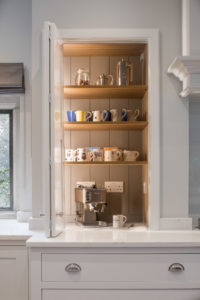 'Having covered the basics, we worked next on the design plan and style together. This was particularly wonderful for our home, as Nick almost designed the whole new kitchen around my juicer! This may sound funny but I love cooking and juicing in particular, and make a fresh juice every morning – it really is such a great way to start the day.'
'In our old kitchen, the number one daily annoyance was that all the different pieces were stored in different places and I'd end up running around the kitchen trying to assemble a juice, which it was more of a stress than a treat. I was so determined not to do this again. Nick has just made it so easy – I have the juicer stored in the right place in a Bowman counter top cupboard, not far from the sink, and an under-counter fridge in the island for the fruit. This makes it effortless even on a busy school day to open the cupboard for the juicer on one side and pick ingredients out from the fridge on the other. It is such a joy to create a juice now!'
Nick Anderson's success as a designer is partly due to an ability to empathise with what his clients are trying to achieve. As owner and Head of Design at Guild Anderson, Nick describes the approach the design company takes for each project. 'We always start with how the kitchen is going to be used: for Jo, it was clear that using her kitchen and specifically the juicer was a key part of her life. This is something she does every morning, so I wanted it to be as efficient and easy as possible and a pleasurable start to the day rather than a hassle.'
Nick continues, 'For the juicing, we added a dedicated fridge specifically for fruit and vegetable storage. This is a wide under the counter fridge drawer set into the island so that it would be easily accessible and close by, which removes the inconvenience of having to kneel down to see what is in the back of the fridge. We also included a double bin centrally located near to the juicer for compost, as well as a dishwasher and dedicated sink. This has a boiling Quooker hot water tap to rinse things straight away making the tidying up part as straight forward for Jo as creating a fresh juice.'
He describes how the Design Team at Guild Anderson take great care to make sure the flow and specification of the room will work for the client. 'Maximising storage space is not an issue in this room but it still needs to be elegant, tidy and to work for the client.'
Nick explains how Guild Anderson achieved this here: 'One of the most popular storage solutions is our Bowman cupboard. The Bowman is a wall cupboard that sits down on the work surface and opens with bi-fold doors that slide to one side. Internal lighting is usually installed so that the interior to the cupboard is lit when the door is opened. We often place sockets at the back of the Bowman so worktop appliances can be left plugged in ready to be slid forward and put to use, without having to move them and store elsewhere. The Bowman is a very neat, efficient and practical way to tuck things away.'
'I think this example describes the sort of details that people may not be able to see at the outset of a project,' Nick adds, 'and they perhaps really only appreciate the value after they have their finished kitchen and start using it. It may sounds trite to some but it is true: Guild Anderson are enablers, we are here to create designs to make the most out of a home – using space efficiently, considering the flow as much as the look of a room. We simply set out to design rooms that suit a client's lifestyle and the way they want to live.'
Cabinetry for Appliances:
 Nick sees another key part of Guild Anderson's distinctive design is, in place of blankly fitting units and appliances into the available area, to approach a kitchen design as a collection of pieces of furniture.
As an example, Jo points to two stand-alone matching pieces on either side of the kitchen door, a dresser and pantry cupboard, one for china and glassware and the other for a large fridge freezer. 'As a final addition to the main kitchen design, we asked Guild Anderson to design these two new pieces of furniture. Nick redesigned and simplified the cabinets to fit within our budget so that we were able to commission these pieces fairly late into the project. I was so pleased we were able to do this as the additional storage space is invaluable and they really complete the kitchen.'
Although not identical, the two dresser cabinets are a feature and bring symmetry to the room. 'When detailing larger integrated appliances like a fridge freezer, we try not to let the fact that it is an appliance disrupt the look of the cabinetry,' Nick says. 'At a glance, you'd have no idea that this pantry cupboard houses the fridge freezer other than the discreet bracketed feet which are designed into the cabinetry skirting board to provide ventilation.'
The new kitchen is well served with appliances. Guild Anderson see part of their service is to advise clients on which appliances might best suit their lifestyle and make it their business to keep up to date with technical developments in the appliance market.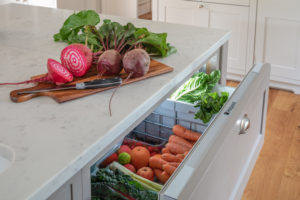 'Regarding the overall design, did we change our plans much? Probably the main item that Nick persuaded us to buy', Jo reflects, 'was the Everhot. I had initially wanted an oil-fired Aga but I am so pleased that Nick persuaded us to change our minds. My husband is an engineer and passionate about buying things made in Britain. Nick suggested we went to visit the factory where the Everhot is actually made. The visit was brilliant and completely clinched it for my husband!'
Many Guild Anderson clients opt for an Everhot as one of the most efficient and flexible of the range cookers.
Jo and her husband ordered an Everhot in Slate Grey through Guild Anderson. Jo enthuses, 'We love it as it is just so much better than an Aga. It does everything you want it to without losing heat. Our new kitchen is such a great place to entertain – it was installed earlier this year in time to celebrate the Royal Wedding with family and friends. We christened the new kitchen with a party for twenty-five on the day it was completed!'
Structural Kitchen Design
Another key part of the design was to create a chimney-breast around the Everhot. The chimney was entirely new: Nick designed and created the studwork and cornice. It functionally hides the extraction system but also provides a focal point for the room.
An element of interior architectural design like this is often incorporated into a Guild Anderson kitchen designs. Nick explains, 'Part of our remit is to consider how to improve the room and we will provide detailed drawings for the builder to work from. We realise that our design team go beyond what an architect or other furniture makers usually do but we believe that taking a more structural approach frames the room and makes it more interesting. The downside of a modern extension can very often mean a fairly featureless room so this more dynamic approach can make all the difference. It also enables the room to change shape at a fairly modest cost.'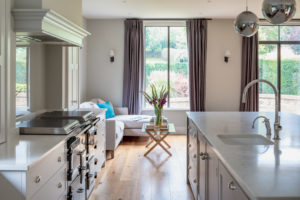 Service and Guild Anderson's Paint Colour Consultancy:
Where does Guild Anderson go over and above what was expected from a run of the mill kitchen design?
'Being a small company, I felt I always had access to Nick Anderson which meant a great deal to us. Nick was personally involved throughout the planning process for our kitchen. I felt he understood us and wanted to make things right for our project,' Jo says.
She goes on to describe the company's customer service, 'After the design planning stage, the kitchen installation went really well and communication was great throughout. Richard and the Guild Anderson workshop team were so good at making things happen and so patient when we were going in circles and things were beginning to go wrong on site.' She felt it was a very positive part of the project that Guild Anderson and builders, PF Parsons, worked well together. 'The communication between the two companies was seamless and they were so good at sorting out any snags together. This really did make a difference to our renovation.'
Jo is very clear about one additional area where Guild Anderson's service stood out: the Colour Consultancy paint service.
'Hannah Anderson was utterly amazing. With so many decisions to be made at the same time, I couldn't have worked the paint colours for the room out for myself. Hannah was such a help. I just knew I didn't want too much dark blue like everyone else, and we went from there. I felt the island should be kept as light as possible otherwise I felt it would look such block in the middle of the room. Hannah's advice on compatible colours that would work together was well worth it.'
Project Completion:
It is hard to describe Guild Anderson precisely, who they are and what they do.
Yes, they design, make and fit kitchens, but this is not entirely true. They craft spaces with furniture, make dreams a reality, and obstacles into a feature through stealth: an unwanted doorway of an old house becomes an in-frame half glazed handmade cupboard set back into the wall; an inconvenient reverse to a staircase is turned into a set of neatly stepped drawers inside the kitchen. Their attention-to-detail is second to none and the quality of their work adds value to a family home such as this.
 Architect Melanie Latham describes the company, "Guild Anderson are designers that happen to make furniture – they are interior furniture designers. They go so far above and beyond with the level of service they deliver, it is hard to describe to people what they do. The added value of Guild Anderson's designs becomes clear to my clients so I have no hesitation in recommending them, knowing they will be well looked after. Moreover, they provide the same care and attention that we like to deliver to our own clients."
 Jo summarises her project, 'I really wanted to spend the main budget on our kitchen rather than the laundry room or larder, where we just reused old worktops as a cheap solution. It was important to me to get the kitchen right and where we allocated most of our budget as I felt this is where we spend so much of our time as a family. The experience with Guild Anderson has been really lovely and so positive and I am so pleased with the new room created by our kitchen. It is perfect.'