In these modern times there are so many choices of worktops, everything from granite to concrete and limestone to composite there is a never-ending array of beautiful tops, with differing qualities and looks it's difficult to take in all the choices.  When trying to decide, and this is a big decision go and have a look at the big suppliers, it is worth a trip to Landford Stone not far from Salisbury or Bath Granite and Marble in Frome and viewing the slabs as a whole gives you the client a far better idea of how the top will look in situ and both companies will be able to offer advice on what would suit you and your home.
We do keep a good up to date range of mainly man-made stone displays at the design studio in Tisbury, all in small sample sizes that are easy to handle and can be put together with your scheme along with colours, flooring and hardware.  Our clients find this really helps visualise how their final beautiful kitchen is going to look.
Fabricated Stone
Quartz is a completely engineered stone and doesn't naturally exist in the format that is used.  Natural quartz is a hard mineral but it not usable in the state that it is found in and in order to produce it, the natural quartz crystals are mined before being ground down into a fine dust resin, binders are then added under very high heat and pressure which forms a solid slab.  During the process, pigments are added to change the colour, this gives a huge variation to styles and looks of quartz that is available to the client.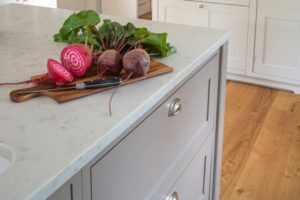 Quartz worktops are also naturally scratch resistant – only three other natural materials can scratch it (diamond, sapphire and topaz).  They are also tougher and stronger than granite and have double the impact resistance  however they are not all heat resistant so it is best to always use a trivet of some sort under a very hot pan.  Due to its unique resistance to moisture, bacteria and germs can't permeate into the quartz in the way that can happen with natural worktops.  This makes quartz a more hygienic alternative to natural stones as it simply requires a damp cloth and a mild detergent to keep it looking really excellent and your worktop will never need to be sealed.
Natural
Firstly the science bit; marble is created from sedimentary dolomite or limestone rock through a natural process meaning that each piece is unique in appearance.  The wide range of hues and colours found in marble are determined by the area of origin and the proportional mix of minerals in the original limestone.  The beautiful and distinctive veining this stone is known for, comes from the impurities trapped in the limestone when earth's extreme heat and pressure transformed it into marble.
We are noticing at Guild Anderson that natural stone is increasingly coming back into fashion, despite the need for greater maintenance and care, we find that more of our customers really do love the look and feel of it especially marble.  However, the composite replicas are now are really a very good body double and you don't run the risk of staining or scratches with the man-made tops.  Despite this you can spot the differences between man-made and real stone, the patina and veining on real stone is always varied and no two are ever the same, so it is hugely important that clients buy from one slab in order to keep the variation to a minimum.  It is also important that clients go and get an idea of where the join may have to go on the worktop, sadly it is often the case that the top requires a join in order to fit the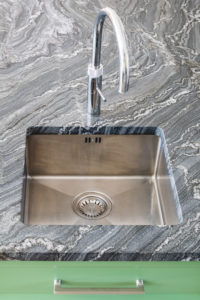 kitchen.  It should be noted that clients often make the decision to go with man-made stone for the reason that slabs come in larger sizes, which if you are having a large island often negates the need for a join.
Marble tops should be sealed 2-4 times a year while granite 1-2 times.  Sadly this sealing doesn't guarantee a stain resistant top and you still need to be extremely careful when dealing with marble, hence it is probably not an ideal worktop for a young family or if you think you might struggle to keep it clean, it depends on your tolerance level, while some can cope with a few dints and marks others will find it upsetting to see lemon or red wine stains.
I have come to live with the stains on our very beautiful Dura Blue Limestone that is in our kitchen at home, it has coped incredibly well from a knock and chip point of view but there are many brownish marks where the rhubarb was left unattended or the lime juice from a Thai salad have spilt off the chopping board.  I have learnt from experience that the best way to deal with this 'etching' of the surface is to take kitchen roll and daub some olive oil on and then rub in, sadly you can't remove the brown stain but you can retain the shine of the stone and it allows the colour to mellow and tone with the rest of the worktop. NB I wouldn't recommend using oil on a marble surface however.
In short, these natural stones are a timeless option and their beauty will not fade over time.  They will never go out of fashion and are a classic choice for both kitchens and bathrooms