Freelance blogger/social media writer
Tisbury | To be discussed
We are currently looking for a social media/blogger writer and organiser, somebody who knows their way around Instagram and Facebook and can organise and keep on top of posts.  To work on a freelance basis.
Posted on 18 June | 2019
APPLY NOW
Furniture Maker
Guild Anderson workshop, Hindon | Good rates of pay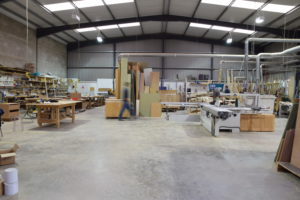 We're looking a skilled furniture maker to join our comfortable well equipped workshop in Hindon.
You will have a good level of furniture making skills and possibly CNC experience although this is not essential.   Site experience an advantage.  Driving licence required.
Good rates of pay for a promising candidate.
Please apply in writing with CV to Hannah Anderson, Guild Anderson, Berwick Hill, Berwick St Leonard, Salisbury, Wiltshire SP3 5SN or email hannah@guildanderson.co.uk
Posted on 28 November | 2017
APPLY NOW
Designer
Tisbury | Salary depending on experience
We make bespoke kitchens and furniture with a strong emphasis on design tailored to the client's needs.  Our design approach is collaborative and not 'salesy'; we are genuinely trying to create the best design for our clients.  Typical projects are £40k-£100k and we work mainly in Wiltshire, Hampshire, Dorset and in some spectacular country houses.  80% of clients come to us on recommendation and we have a very high conversion rate.  Currently we have 17 employees, 10 of whom are in the workshop, turnover is around £1.8m and growing, but held back by our design capacity.  Our new office and design studio is in Tisbury where this role will be based.
The most important thing we are looking for is a good personality fit into our company, both within the team and with clients.  Skills can be taught but a leaning towards interior architecture and functional design helps, as does CAD ability.  We're happy to train the right person so a new graduate could be right provided they are excited by what we do, where we are based and the prospect of working with a small company.
We operate 40 hours per week, but there is flexibility in terms of start and finish times.
Posted on 28 November | 2017
APPLY NOW